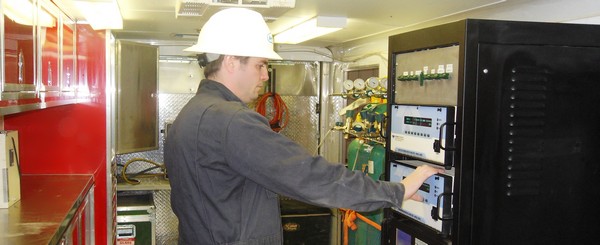 The Oasis Advantage
What Can Oasis Do For You?
Through a combination of technological improvement and "hands-on" experience, Oasis has achieved many innovations that provide our clients with the following benefits:
TRUE REAL TIME READOUTS OF EMISSION LEVELS
Oasis has developed a unique system that provides final calculated test results, as the measurements are taken. This feature allows our technicians the ability to tune the engine and review the results in real time, ensuring that the unit is complying with local air quality permit requirements, prior to the actual test date.
TRUE REAL TIME READOUTS OF ENGINE OPERATING PARAMETERS
WinStack has the ability to measure and approximate various engine operating parameters in real time. The engine load utilization, fuel gas consumption, and even the brake specific fuel consumption are measured instantaneously by WinStack. The real time data enables Oasis to optimize engine performance while performing an emission check, or as a completely separate service.
ONSITE ENGINE TECHNICIAN
Every stack test is performed by one of our engine service technicians, requiring little or no support from your production personnel. Unlike most other stack testing firms, Oasis does not place the onus on the client for engine support services. Our technicians are specialized in all facets of engine emission control including: engine and air/fuel ratio controller adjustment and catalyst maintenance.
QUALITY ASSURANCE
Oasis has developed the WinStack system to strictly enforce correct EPA testing procedures. This, coupled with a final review by one of our professional engineers, virtually eliminates the possibility of a deficient report submission.